BDA's Holiday Showcase 2022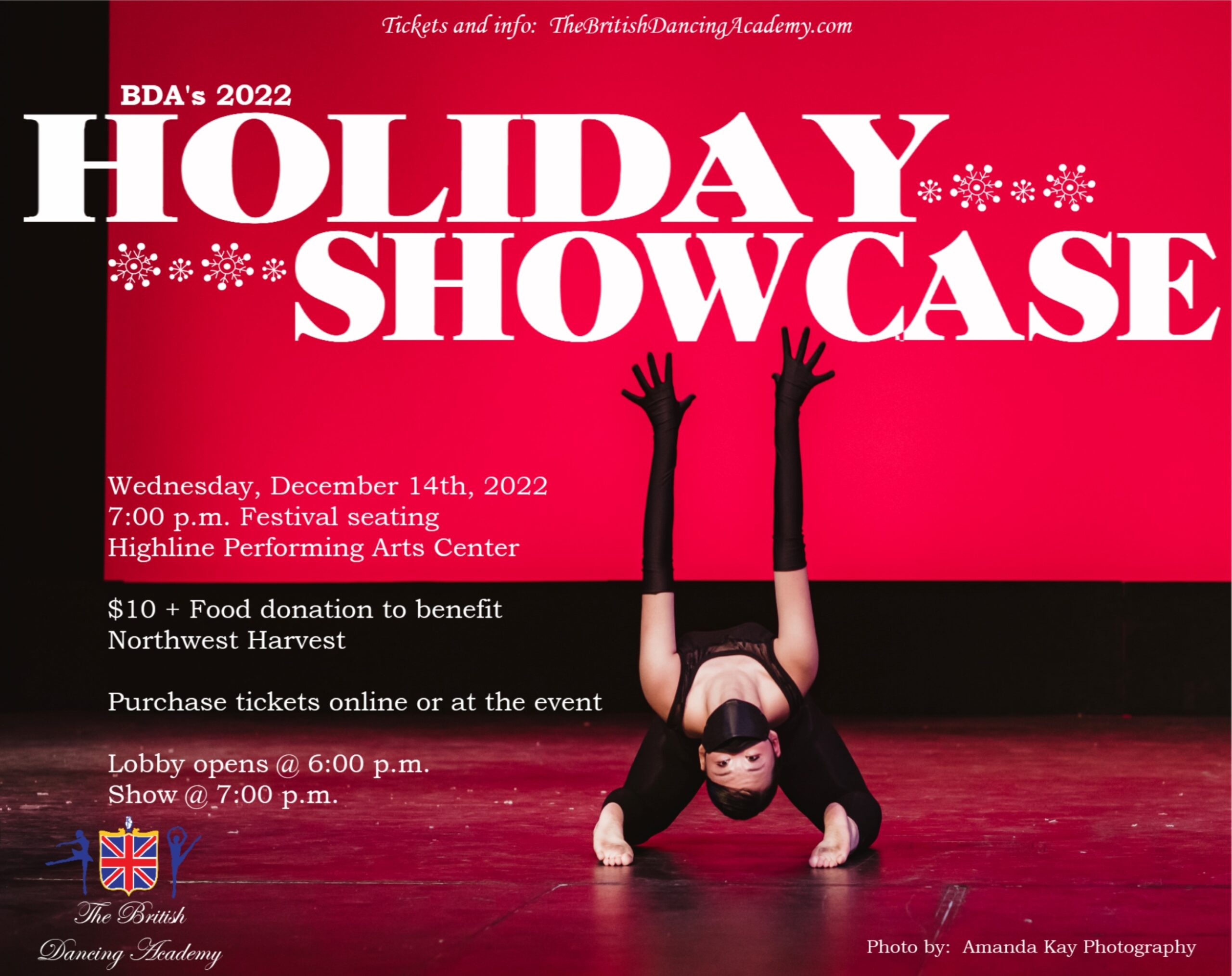 The British Dancing Academy invites you to our 2022 Holiday Showcase!
This one-night-only performance will happen live on Wednesday, December 14th at the Highline Performing Arts Center in Burien! Our Senior dancers cannot wait to perform for you, this is sure to be a holiday show not to miss.
2022's showcase will feature a variety of styles of dancing, including Ballet, Tap, Jazz, Modern, and much more! All of us at the BDA are excited to bring to you many brand new pieces, BDA holiday traditions and even choreography from some of our advanced dancers.
Cost: $10.00 + one non-perishable food item to benefit Northwest Harvest.
This year, you may purchase tickets online OR on the night of the show! In order to alleviate lobby congestion on show night, we ask that you please purchase tickets ahead of time if you are able. We will have a separate line for advance ticket holders to find seats more quickly. The lobby will open at 6:00 p.m.
Showcase night ticket sales will begin at 6:00 p.m. The show begins at 7:00 and runs approximately 1 ½ hours with no intermission. (Note: Every audience member will require a ticket, regardless of age.) This show is festival seating.
Cash or card the night of the show.
The BDA staff asks please no photography, video, or cell phone use during our performance as to respect our dancers. Our official BDA photographer Amanda Kay Photography will be capturing the BDA Holiday magic during our stage rehearsal and during the performance!
Visit our website:
www.thebritishdancingacademy.com
Happy Holidays and see you at the show!